VEGAN 'PATATJE KAPSALON'
OG Dutchies know this post-clubbing dish. A perfect cheat meal that cures your hunger.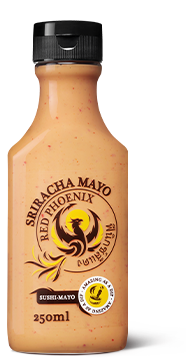 A drizzle of Red Phoenix Sriracha Mayo
A bag of sweet potato fries
Vegan shoarma
A bunch of vegan cheese
Two tomatoes
A couple of leafy greens
Paprika powder to taste
Let's get started
1
Coat the sweet potato fries lightly in some oil and add some salt. Bake in an oven tray for half an hour in a preheated oven at 200 degrees Celsius.
2
Take the fries out of the oven and cover them with the shoarma and vegan cheese. Put back into the oven until the cheese is melted. Serve with the vegetables, paprika powder and a decent drizzle of sriracha mayo.
MORE RECIPES
LEVEL UP YOUR FOOD GAME. AND AMAZE YOURSELF AND YOUR FRIENDS.