SALMON AVOCADO BAGEL
Looking for a healthy dinner option you'll want seconds of? Look no further.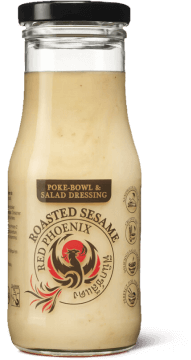 Red Phoenix Roasted Sesame Mayo
4 sesame bagels

2 avocados

100 g smoked salmon

½ onion in thin rings

4 dill sprigs
Let's get started
1
Toast the bagels according to the package directions.
2
Cut the avocado into thin slices. Cut the bagels in half and spread both sides with toasted sesame mayo. Top the bagels with the smoked salmon and avocado slices and garnish with the onion and dill. Season with black pepper and roasted sesame mayo.
MORE RECIPES
LEVEL UP YOUR FOOD GAME. AND AMAZE YOURSELF AND YOUR FRIENDS.