SPICY CLUB SANDWICH
The lunch of your dreams from the comfort of your own couch!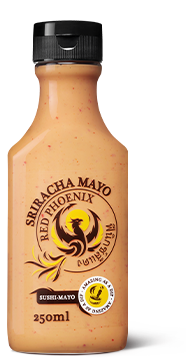 A drizzle of Red Phoenix Sriracha Mayo
Three slices of Sourdough bread
Chicken breast ánd bacon, 2-20 slices (your preference, no judge)
One tomato
A ripe avocado
Let's get started
1
Fry the bacon in a pan until the slices are crispy. Set aside. Slice the tomato and avocado, and toast the bread.
2
Spread a generous amount of sriracha mayo on one slice of bread, top with chicken breast and tomato. Cover with a second slice of bread, also spread with Red Phoenix. Add crispy bacon and avocado. Cover with the third slice and voilà!
MORE RECIPES
LEVEL UP YOUR FOOD GAME. AND AMAZE YOURSELF AND YOUR FRIENDS.