COMFORTING PHO
Looking for a healthy dinner option you'll want seconds of? Look no further.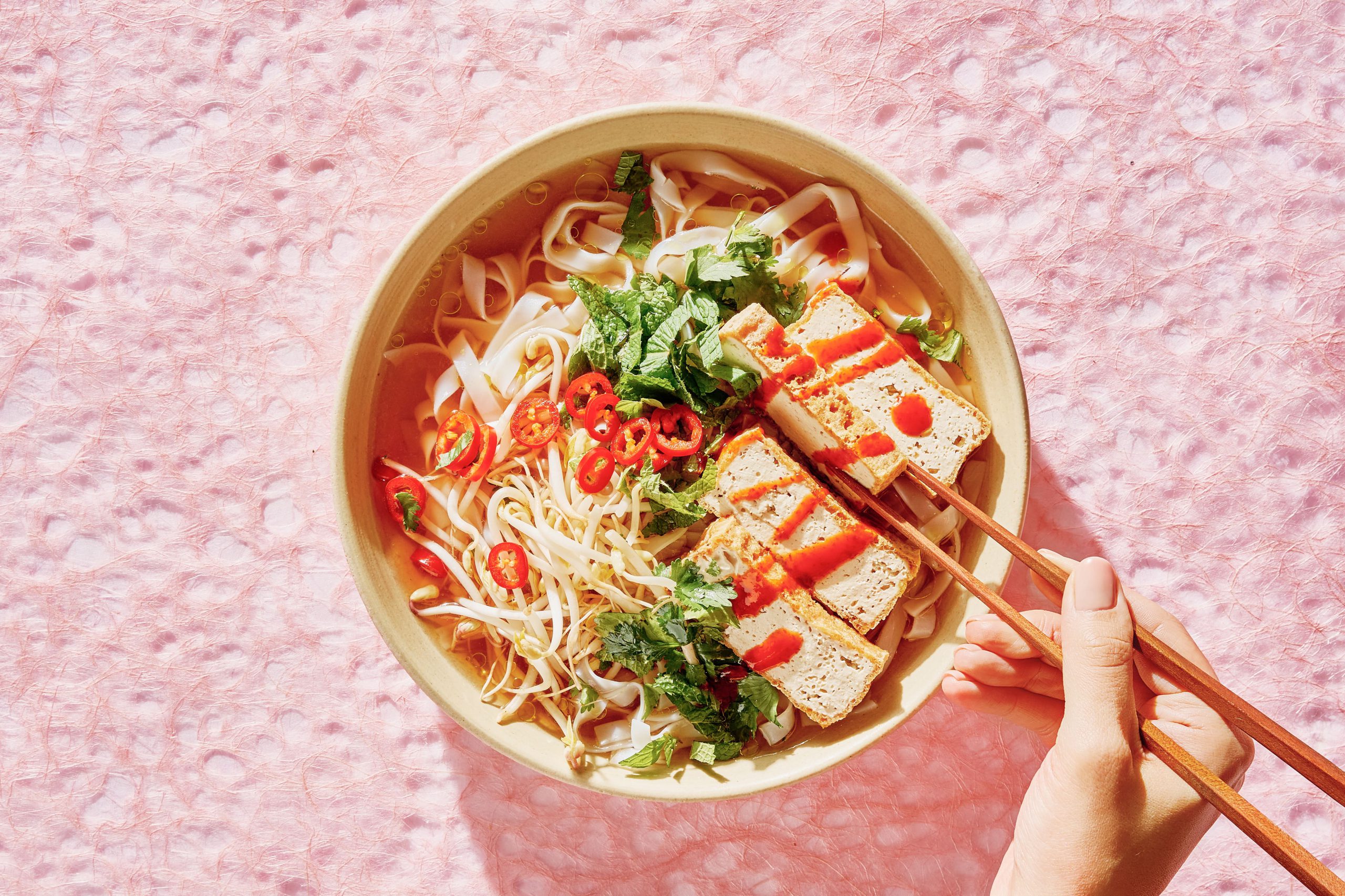 Red Phoenix Sriracha Original
1 medium-large onion

6 cm fresh ginger

1 kg marrow bones

2 tsp coriander seeds

2 cinnamon sticks

3 cardamom pods

3 pieces of star anise

3 cloves

2l tap water

1 vegetable bouillon cube

2 tbsp fish sauce

225 g rice noodles 5mm

1 red pepper

375 grams tofu plain

10 g fresh mint

10 g fresh coriander

125 g bean sprouts
Let's get started
1
Preheat the oven to 220ºC. Cut the onion into quarters and the ginger into long slices. Place the onion, ginger and marrow bones in the roasting tin and roast in the oven for approx. 20 minutes. Turn halfway through.
2
Heat a frying pan without oil or butter and roast the coriander seeds, cinnamon, cardamom, star anise and cloves for 3 minutes over medium heat. Put the spices with the onion, ginger and marrow bones, the water and the bouillon cube in a soup pot and let it simmer for 2 hours with the lid on. Strain the broth and add the fish sauce.
3
Let the tofu drain for 5 minutes in a colander. Place something heavy on top to squeeze out as much moisture as possible. Heat 50 ml of oil in a frying pan. Pat the tofu dry and cut it into even-sized slices. Bake the tofu for about 10 minutes on medium heat until golden brown and crispy. Remove from the pan and drain on kitchen paper.
4
Meanwhile, prepare the rice noodles according to the directions on the package. Cut the stem of the red pepper. Roll the pepper between your hands so that the seeds fall out. Cut the pepper into rings.
5
Coarsely chop the mint and coriander. Divide the noodles among bowls and pour over the hot stock. Garnish with red pepper, tofu, mint, coriander and bean sprouts.
Finish off with extra Sriracha to your liking.
MORE RECIPES
LEVEL UP YOUR FOOD GAME. AND AMAZE YOURSELF AND YOUR FRIENDS.