HARISSA CARROTS WITH SESAME DRESSING
Discover the Middle Eastern flavors with a Red Phoenix twist! The perfect side dish for every dinner party.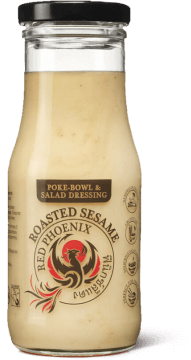 A drizzle of Red Phoenix Sesame dressing
Half a kilo of carrots
Some olive oil to toss
Harissa: 2 tbsp
Some fresh mint to garnish
Let's get started
1
Cut the carrots lengthwise and place them on a baking sheet. Toss the carrots in harissa and olive oil to coat them evenly. Roast for half an hour in a preheated oven at 200 degrees Celsius.
2
Remove the carrots from the oven and place them on a serving dish. Drizzle the sesame dressing over them and garnish with fresh mint leaves.
MORE RECIPES
LEVEL UP YOUR FOOD GAME. AND AMAZE YOURSELF AND YOUR FRIENDS.