SPICY SMASHED POTATOES
Looking for a healthy dinner option you'll want seconds of? Look no further.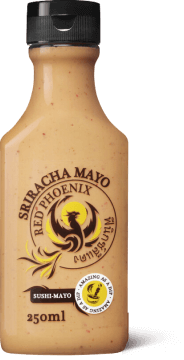 Red Phoenix Sriracha Mayo
1 kg floury potatoes

2 tbsp mild olive oil

½ bunch of parsley

2 spring onions

juice and zest of 1 lemon
Let's get started
1
Preheat the oven to 180 °C. Scrub the potatoes clean and cook for 20 minutes. Drain and allow to steam dry for 5 minutes.
2
Crush the potatoes with a fork on a baking tray lined with parchment paper. Drizzle with ⅔ of the oil and season with salt and pepper. Bake in the centre of the oven for about 50 minutes until crispy. Cut the spring onion into rings and coarsely chop the parsley leaves. Sprinkle this over the potatoes, grate the lemon over it, and squeeze it over it.
3
Serve the crispy potatoes with Red Phoenix Sriracha Mayo.
MORE RECIPES
LEVEL UP YOUR FOOD GAME. AND AMAZE YOURSELF AND YOUR FRIENDS.