TRIPLE-LAYER GRILLED CHEESE WITH KIMCHI
Feast your eyes on our delectable Triple Decker Kimchi Tosti, oozing with cheesy goodness and tangy kimchi flavors!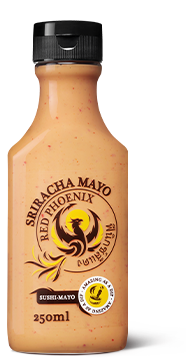 Red Phoenix Sriracha Mayo, four massive dollops
Bread: 4 slices
Kimchi, a couple of spoons
Your favorite cheese, about 6 slices
A lil' slap of butter
Sesame seeds as a topping
Let's get started
1
Spread butter on one side of the bread slices. Let a frying pan heat up.
2
Build the first layer: spread the unbuttered side of the bread with miso mayo and top with a slice of cheese, 2 tablespoons of kimchi, another slice of cheese, and another slice of bread (buttered side up). If the kimchi is a bit wet, drain it and cut it into smaller pieces if necessary.
3
Cook the first layer in the pan, flip when brown, and build a new layer on top as in step 3. Repeat this one more time until your triple-decker grilled cheese is ready! Tip: place the lid on the pan at the end to melt the cheese. Top with Red Phoenix sriracha mayo and sesame seeds.
MORE RECIPES
LEVEL UP YOUR FOOD GAME. AND AMAZE YOURSELF AND YOUR FRIENDS.